We have so many winners to announce today it's like a winner-palooza! We feel so blessed every month by your entries. We love to admire your creations and hear your stories and are so grateful that you share them with us. We would love for you to join us at

our

SEM Facebook ChitChat Group

where we visit, play games and share in fellowship.
While we loved your entries on March's theme of giving,we did not receive enough this month to take a vote. So here are the beautiful entries:
Beautiful entries,ladies!
This month's sponsor is
ScrapChicKits
and here is what the owner Sue has to say about it:
"I got started into scrapbooking from Bernadine Segui who is an American fluent in French who has a website in French and does amazing design work. Here is her link for any of you who speak French.
I wanted to bring some of her products together into kits for the English speaking and that's how Scrapchickits got started. I love family history and scrapbooking can make our history so bright and creative. My store features quality products from Websters, Crate Paper, Pink Paisley and more at a very reasonable price. My shop is on Etsy so it is really easy to find and to order.
ScrapChicKits. Happy Scrapbooking!"
And now for the prize that Sue has so generously donated: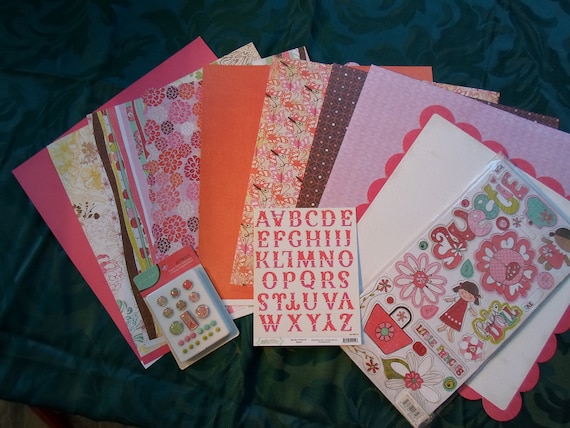 This kit is especially designed for your little girl who loves do
lls, dress up and flowers. It is luscious pink and turquoise. Look what you get inside: 3 Crate Paper Cottage Collection papers, 1 Crate Paper Paper Doll Collection paper, 4 Crate Paper Pink Plum Collection papers, Crate Paper Chipboard Paper Doll Accents, Crate Paper Paper Doll Glazed Brads, 18 inches turquoise ribbon, My Minds Eye Alphabet.
The winner of this awesome prize package is:
Next up are the individual winners from our Blog Hops:
Toni's winner is Joan Young
Nicole's winner is Mandi
Jessica's winner is Carla
Tracey Gregory's winner is Roberta
Cara's winner is Karen Letchworth
Tracey Sabella's winner is Buffy Esser
Kelly's winner is Patricia
Christy's winner is sooofullofcraft
Lisa's winner is Cheri
Our DT will also announce their winners on their blog. Thanks so much for hopping with us on that busy Easter Weekend! We hope you had fun!
Our Blog Hop prize is sponsored by.
..
Genuinely Jane Studios (GJS) manufactures small and medium sized mini-albums for scrapbooking, mixed media and altered arts in a variety of shapes and sizes. 100% American-made, our facility is located in rural, north-central Missouri and uses only the highest quality materials.
Owned by a military veteran, and accomplished woodworker,
Mark Carosiello
and a lifelong crafter, industry manufacturer's rep, design team member, passionate scrapbooker and altered artist,
Susan Wojtkowski
, we understand the craft and the crafter.
Our Facebook Challenge Winner is :
And last but certainly not least
our Blog Hop Grand Prize winner is:
Thanks again to all who entered!
and our Sketch challenge to be posted the third Monday of this month!