Winner for Challenge #13 will be announced on March 10th!
Hello Everyone . . . It's my turn to bring you our March Challenge . . and I'm so excited about it!!
While on vacation in South Africa, I went to a church service with a friend of mine. They are a small community, and I was asked to describe who I am in one word! And this is where this month's challenge cames from.
THIS IS ME . . . in one word!!
We want you to do a layout all about who you are, but the title of your layout must be the word that you think describe you the most right now! Just being who you are, are a miracle in itself! Often we look at the things around us, and we see God working in our lives, but sometimes we just need to sit and think "Who am I, what are my talents, my personality, my likes and dislikes." This month it's all about YOU!
SCRAP TWIST: We want to see the person behind the layout, so please use a photo of yourself and journaling to tell us who you are! It would be fun if you scraplift yourself as well.
DT LAYOUTS
(click on the DT member's name to hear more about their layout)
I
had to really think when I was asked the question at church! But the word "strong" popped into my head every time I though about a different word, and I knew this is the word God is telling me how He sees me! And it just fit me so well! I am a strong woman, BUT I know where my strength comes from.
Jeannine's
layout will put a smile on your face for sure!! Here is what Jeannine had to say about her layout:
"
I wasn't sure what word describes me so I asked my family and without hesitation, all three of them said, "Silly!" I can't deny it. I love being silly. God wired me this way for a reason and I've seen how my silliness has uplifted my friends and family when they needed it. How cool is that? I can act silly and serve God all at the same time!"
Sherri created such a gorgeous layout to describe herself! Sherri said this about her layout: "
I recently read an article that spoke about the trouble we can have, especially as women, recognizing our worth outside of the role we fill for our spouse, our children, our bosses, etc. The writer went on to remind the us of all the ways God sees us, the way He created us. I chose to use this as the basis of my layout. These promises (typed up and hidden in the pockets behind the photo) serve as a wonderful reminder of not only who I am, but whose I am."
Here is Lisa's creative layout and she explains what it's all about . . . "
I was going to choose 'nuts' as my word but a friend said I should use 'creative'. I thought that was better, God has certainly made me with a strong creative streak!"
Here is Wendy's wonderful layout . . . "
The word that best describes me is rock-solid. I don't change because I am completely grounded in my Lord. I have grown over the years and will continue to grow until the Lord calls me home, but my foundation is built on the rock!"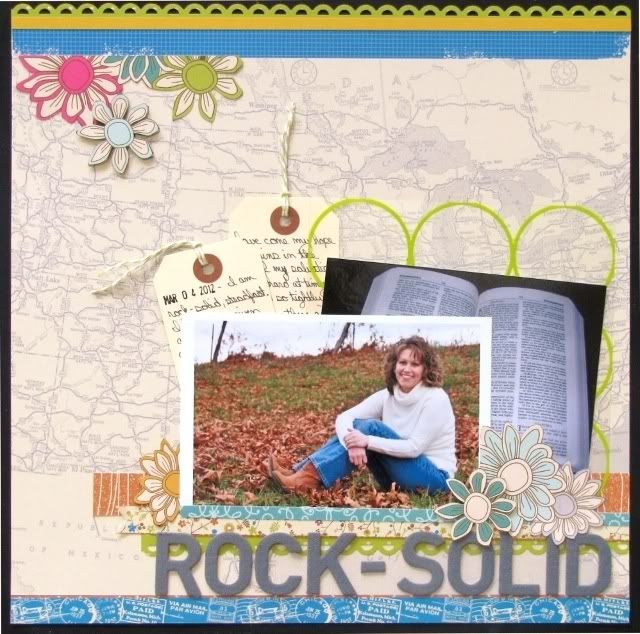 Here is Nicole's creative layout . . . "
The word that came to mind for me right now is "Be You -tiful". Being me is beautiful... I dont need to try to be different or be someone else.... God sees me as beautiful just as I am! I have included on the layout many of the things that I love and make me ME!
Our Creative Team did an amazing job with this months challenge . . . Thank you ladies for such inspiring layouts!!!!
This month we actually have two sponsors which make one big prize package you can win!!!!! Our first generous sponsor for this month is Dot & Whimsy!
"
I have been an avid paper-crafter and scrapbooker for almost fifteen years, but a crafty person most of my life. I love combining vintage flea market finds with new stuff and turning unusual shapes into mini albums, cards and collage art!
My passion is vintage inspired, with a shabby chic and retro flair. I may venture out and go with really clean lines and structure on occasion, but most of the time I go for the frilly, shabby, glittery and fun cottage style!
Awhile back I needed a little bit of crepe paper fringe for an altered project so I decided to create my own...from that experiment ON THE FRINGE handmade crepe paper trim was born. I have crafted several hundred feet of lucious, colorful trim over the past couple of years. It has been featured in the January/February 2012 edition of Simply Handmade magazine, as well as being included in a few scrapbook club kits along the way!
Aside for Dot and Whimsy on Etsy, you can also find me here:
Design Teams:
Imaginisce, Vintage Street Market, EAD Designs and My Scrapbook Nook Kit Club
Creative Teams:
Paper Issues and I Heart Ippity (Unity Stamps)
Guest Designer For:
Little Yellow Bicycle, Kraft Outlet and Miss Art's Papercrafting School
I hope you come by Dot & Whimsy for a visit! I gladly take custom orders :)
Happy Creating
Shellye"
The wonderful prize Shellye is offering to our winner is
a bundle of crepe paper Fringe.
Our second sponsor is Nana Campana... She is offering the winner a spot in Ashes to Beauty Program....
As an artist you have been entrusted with the gift of seeing the world through a different lens… It is YOU that has the power to make or break your world- and as long as you keep choosing to "FIT-IN" – the world keeps missing out on your beauty. Your talent is unique – and God placed it there so that you would lead others to Him through it.
Ashes to Beauty is a 4-week journey of healing and self-discovery for
creative powerhouses who are tired of living in the status quo and are
finally ready to start their revolution. Through it, you will
discover your strengths & purpose, PLUS you will be equipped to
finally live the life you dreamed of in boldness. Ashes to Beauty is
NOT just a class. It is a program meant to encourage the beginning and
completion of a journey!
THE NEXT
Ashes to Beauty is
April 1- April 28
Please check out
http://www.nanacampana.com/ashestobeauty/
for all the information about the program and what is included!
So if you would like a chance to win both prizes all you have to do is complete the challenge and link it up by March 31st.
And dont forget we will also be picking our Top 3 layouts from this challenge and our Guest Designer for June!
Winners for this challenges will be announced April 7th!