Hi Everyone..

.
So over the next three days we have three fun announcements leading up to our blog hop... today I wanted to tell you a little bit about what you can expect here at Scrapping Everyday Miracles and to introduce our design team....
Here is how each month will look
The 1st and 3rd Mondays

is when

Challenges

will be posted each with a sponsored prize... you have until the end of the month to complete your layouts
The 2nd Monday

of each month we will a

Tutorial or Technique

for you
The 4th Monday

of each month we will share some

Scrapping Inspiration

with you
Every Wednesday
we will have a post called
Capturing Everyday Miracles
.... we will share pictures that we took during the week of some of our everyday miracles and we will give you a chance to link up your own pictures
Every Friday
we will have
Praise Posts
about what God is doing in our lives... you will be able to comment and share your own praises
Finally in the
beginning of the month
we will also have posts sharing our
winners, guest designer
for the month and
sponsors
for the month....
How does that all sound.... you can also expect random giveaways, and blog hops over the next few months....
Now let me introduce to you our lovely design team....
I'm Elizabeth! Been scrapping for over 10 years now learning every step of the way to express myself through this wonderful hobby! I am a water-walkin' Jesus love girl. Been walking with the Lord for 10 years and can't imagine going back! Blessed to be married to a really great guy Dayv. Got one beautiful daughter Alyssa. 3 puppies. I work at Starbucks as foreman. Living in WA. Lover of gardening, reading, hanging with my family, and laughing a lot! It's an honor and a blessing to be on Scrapping Everyday Miracles and I am excited to share in this journey with you!
Check out Elizabeth's blog:
http://www.elizabethmcarney.com/
Here is one of Elizabeth's beautiful layouts
My name is Lisa Hoel and I'm blessed to be married to the greatest guy in the world and have two dynamic little boys. I've never met a craft I didn't like and scrapping is no exception. I'm inspired by my family, life and God's creation all around us. I hope I can have a small part in inspiring you!
Visit Lisa on her blog:
http://creativejuicefreshsqueezed.blogspot.com/
Here is a great layout by Lisa
I'm a mother of two adult children, Bethany (25) and Rachel (23) and have been married to my best friend, Dave, for nearly 30 years. I was introduced to scrapbooking by my sister, but didn't really get serious about it till recent years... maybe three years ago.
Other than scrapping, I love spending time with my family. My family is made up of a bunch of goofs so anytime we get together is sure to be a blast.
One more thing you'll learn about me really quick is that I'm a bunny lover all the way. If I had my way, my yard would be filled with them!
Here is Jeannine's blog:
http://creative-chaos07.blogspot.com/
Here is a
fabulous
layout about her bunny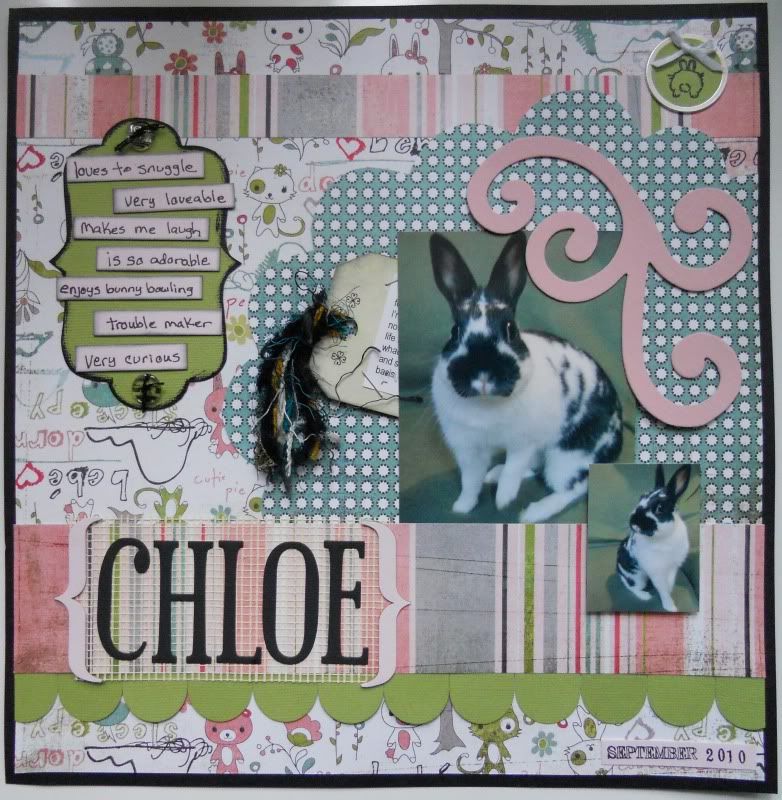 My name is Leigh Penner and I am excited to be a part of this DT.
I have been married to my husband, Cameron for 15 years and together we have three beautiful children: Austin (12), Jonah (8.5) & Sage (6.5). We live in

Morden

, a town in southern Manitoba, Canada and after years of being a stay at home mom, I went back to work a year and half ago, as a substitute teacher at the high school in our division. I really enjoy my job, as it's the same hours as my kids and then we have time together after school, on weekends and holidays. I'm really looking forward to summer, however, when we'll have 2 months off together! That's the best!
I grew up in a home where we believed in God, but He always seemed very far away from me. In high school, I became best friends with a girl named Lindsay who was a Christian. I remember wanting what she had. So after attending her youth and a few events and lots of conversations about her faith, I told Jesus that I wanted to follow Him. That was 22.5 years ago and it was the best decision I ever made!
My faith hasn't seen a lot of ups and downs. It's been more of a steady growth kind of thing. I love God and it's so exciting to me to be a part of a team where I can be challenged to created layouts that document my faith for my family and friends. And for my kids. This is so important to me that they get how important my

relationship with God

is to me.
I started scrapbooking 8 years ago at a

Creative Memories

party that I hosted and although I never got into the "CM style", I was hooked from day one! I love scrapbooking and making cards-- my scrapbooking area is truly my happy place! My style has changed a little over the years, but has always been fairly clean and simple, I think. I love taking pictures and creating layouts about them so that I'll be able to always remember the events & moments that make up our lives.
In addition to scrapping, I enjoy reading, a little bit of gardening and being the large group coordinator for our Children's Ministries program at my church. On my days off, I love getting together with my friends for coffee and visiting. I am also testing for my black belt in tae kwon do on May 14th, so I'm super excited about that!
Here is Leigh blog:
http://www.leighpenner.blogspot.com/
One of Leigh's great layouts
I'm Jaclyn Kline Torres from the Philippines. I'm not your typical religious Catholic who attends mass regularly and partakes in vigils and processions. I like talking to God in my own personal time...usually in my room. It might be that I may not have found the Church that works for me but I am okay with communication to Him this way. God has always been generous to me -- great family, wonderful boyfriend, awesome friends, fruitful career, providence...the list goes on and on really...I can never thank Him enough. So when I heard about a DT call for Scrapping Everyday Miracles, I thought "This is it! I can thank Him gradually like this!" and immediately heeded this blog's call. I don't regret every single bit :) I wish to go on a journey to discover the little and big things God graces me everyday and inspire YOU to go on your own journey as well. What's more is that this will not only be spiritually enriching but enjoyable too because our hobby is involved. I for one am really excited. I hope you all are as well :)
Check out Kline's blog:
http://aptitude4paper.blogspot.com/
Here is a layout that shows Kline's wonderful scrapping talent:
I'm a 39 year old SAHM (not by choice, but I know it's a blessing!!) of 2 teenagers. Monique is 18 and Ruan is having his 16th birthday next month. I'm married to Herman for almost 21 years (December this year!!) and he still has the ability to make my knees go weak! We recently moved from Seoul, South Korea to
Saudi Arabia
(this is our
second time in Saudi Arabia
) and while I am so thankful for these wonderful opportunities that has come our way, and for the adventures we are having, and the places we have seen, I'm not happy at being back in Saudi Arabia! I'm having a hard time adapting to live here. But I know God has a plan with all of this! He has brought us this far and He knows where our paths will lead. I believe this with all my heart . . . If I didn't I would have been back in South Africa (our home country) a long, long time ago!
I grew up in a home where we went to church and was told of God, but I know now that there is a big difference to be told of God and to see God in someone. Faith had no real meaning to me growing up. A few years after my children were born, I wanted to go back to work. Several months passed without anything happening. I felt desperate and started praying for a job. In those prayers I asked for "any job". Ha . . . I soon realized to be careful for what you ask God for! God gave me a job within a couple of weeks. I started working for an organization that held Christian camps for woman! I had a hard time with this job of mine! Everything I believed was being challenged! I felt like I was being brainwashed for a while. But then slowly I was beginning to see how God shines through a person who really loves Him. I can honestly say that my love for our Saviour grew from that moment on! When my dad died in 2000 I know God carried me through it all! Without my relationship with Him I would have crumbled during that sad time in my life! I believe God brought me to Scrapping Everyday Miracles' DT because I need some direction in my life right now! I have no one here, except for my family, to share my beliefs with, to pray with me, to have

bible study

with! And this has been going on for 4 years. It feels like my faith is slipping away and not growing. This challenge blog, for me, will be to re-connect with God! And THAT is a blessing!!! I'm truly thankful to be here and I can't wait to get to you all of you!
Roulien's blog is:
http://my-scrappy-story.blogspot.com/
Here is a layout about Roulien's daughter (here daughter looks so much like her I have a hard time figuring out if her pictures are of her or her daughter...)
Finally you guys have little ol' me... so who am I. My name is Nicole Brenna and many of you know me as Nic. I am a SAHM for my wonderful daughter Karianne who just turned three. My husband I moved from California to Norway 2.5 years ago so that he could fly the air ambulance. We are based in Northern Norway above the Arctic Circle. Life is very different for me from the life I was use to in the States.... I am not around the Christian friends, family and church life that I am use to and I really miss it. Even through the bad weather and tough times God is continually revealing Himself to me and showing me all His blessings around me. Scrapping is a big part of my life and I love it. I really felt that God was leading me to start a place where we could share these everyday miracles and blessings through our hobby. I am really excited and ant wait to meet all of you and see your miracles!
My blog can be found at:
http://scrapmethis.blogspot.com
Here is one of my favorite layouts