New year -- God has blessed us with yet another year to realize our dreams, our hopes, our aspirations. My bucket list changes every year. Some dreams I've already realized, some are still a work in progress, some I'm still praying for.
"And the LORD answered me, and said,
Write the vision, and make it plain upon tables,
that he may run that readeth it. For the vision is yet for an appointed time,
but at the end it shall speak, and not lie:
though it tarry, wait for it; because it will surely come, it will not tarry."
Habakkuk 2:2-3
So
the challenge is to scrap about a dream
. It can be one you've already realized like finally traveling to that one place you've always dreamed about going. It can be a work in progress like maybe saving up for a new house or a dream vacation. Or it can be one you're still waiting for. Whatever it may be we encourage you this month to ponder upon it and scrap it!
Scrap twist: Use the word "dream" on your project. You can use it on the title or the background but it has to be visible on your project
;)
DT LAYOUTS
(click on the DT member's name to hear more about their layout)
Kline
: This is a photo of me as a child. I tucked away my goals for 2012 inside the mini folder behind the photo since some were a little too personal to show. I have a ton of goals this year and they're grouped into "Family", "Career" and "Me".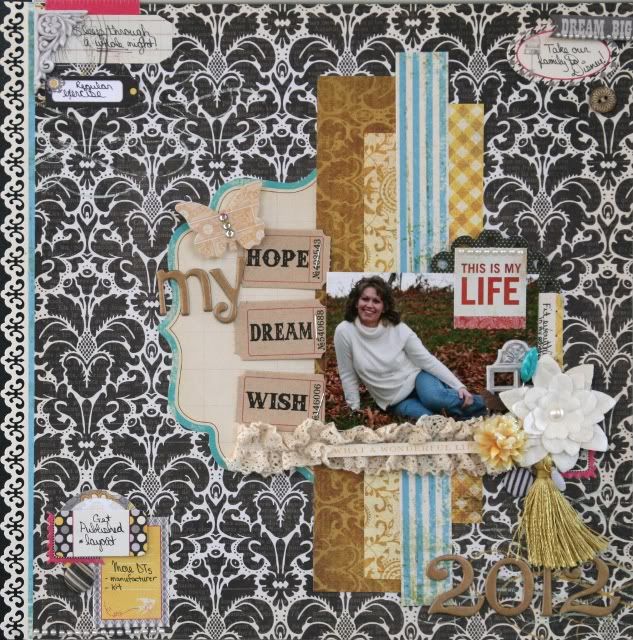 Wendy
: My layout is about some of the personal dreams/goals/wishes I have for me this year. Some will take discipline, some will take effort and all will take prayer!
Roulien
: I made a layout but included a booklet with my dreams that were accomplished during 2011. Putting them down on paper made me realize just how blessed I am!
Sherri
: Ever since discovering Sharon's sweet little scrapbook store just outside the city, it has been a dream of Sherri's to work for her at The Scrapbook Cottage. Little did she know that within 2 years her dream would come true when Sharon opened a second store in the city, and offered her a position as a 'Cottage Girl'.
Lisa
: I created a layout about the dreams I for my son and how God is helping fulfill them.
This month's sponsor, Monika, is offering one lucky winner a $20 gift certificate to her Etsy shop
ILOVEITALL
.
Formerly a Marketing Director and now Work-from-Home Mom, Monika has turned her love of all things crafty and creative into a small business. Her Etsy shop,
ILOVEITALL,
stocks a cheerful array of subway art prints & motivational typography posters, custom & personalized home decor prints as well as note cards, mini books & journals and an eclectic selection of cool crafting supplies to include paper and embellishment packs, library cards and colored binder rings. She shares news of special sales & coupon codes on her
blog
and on
Facebook
. In fact, use the coupon code ILOVEITALL for a 15% discount on your purchases from Monika's
shop
.
We will also be choosing our
top 3 picks
so don't forget to
link your projects here by January 31st
!